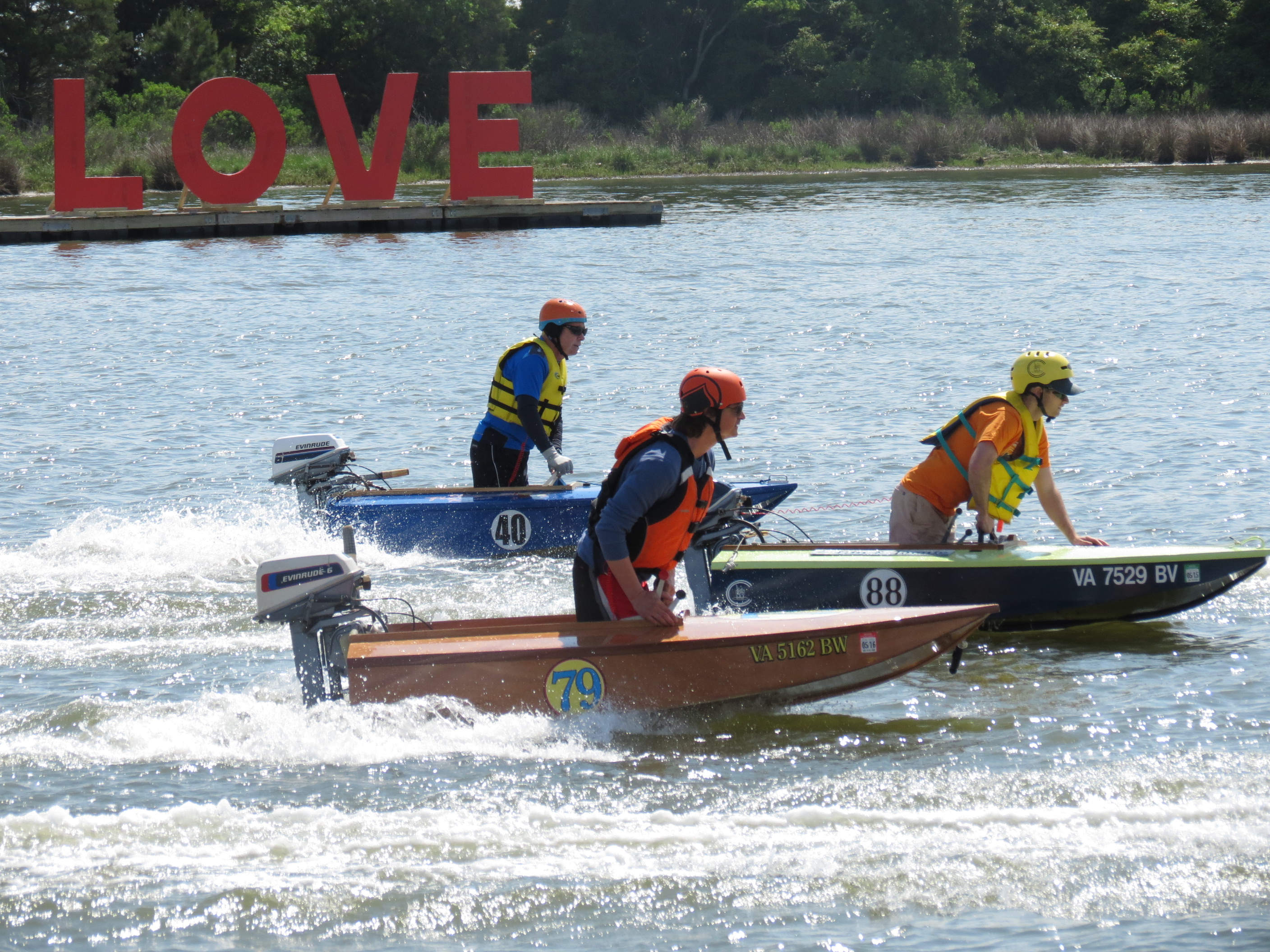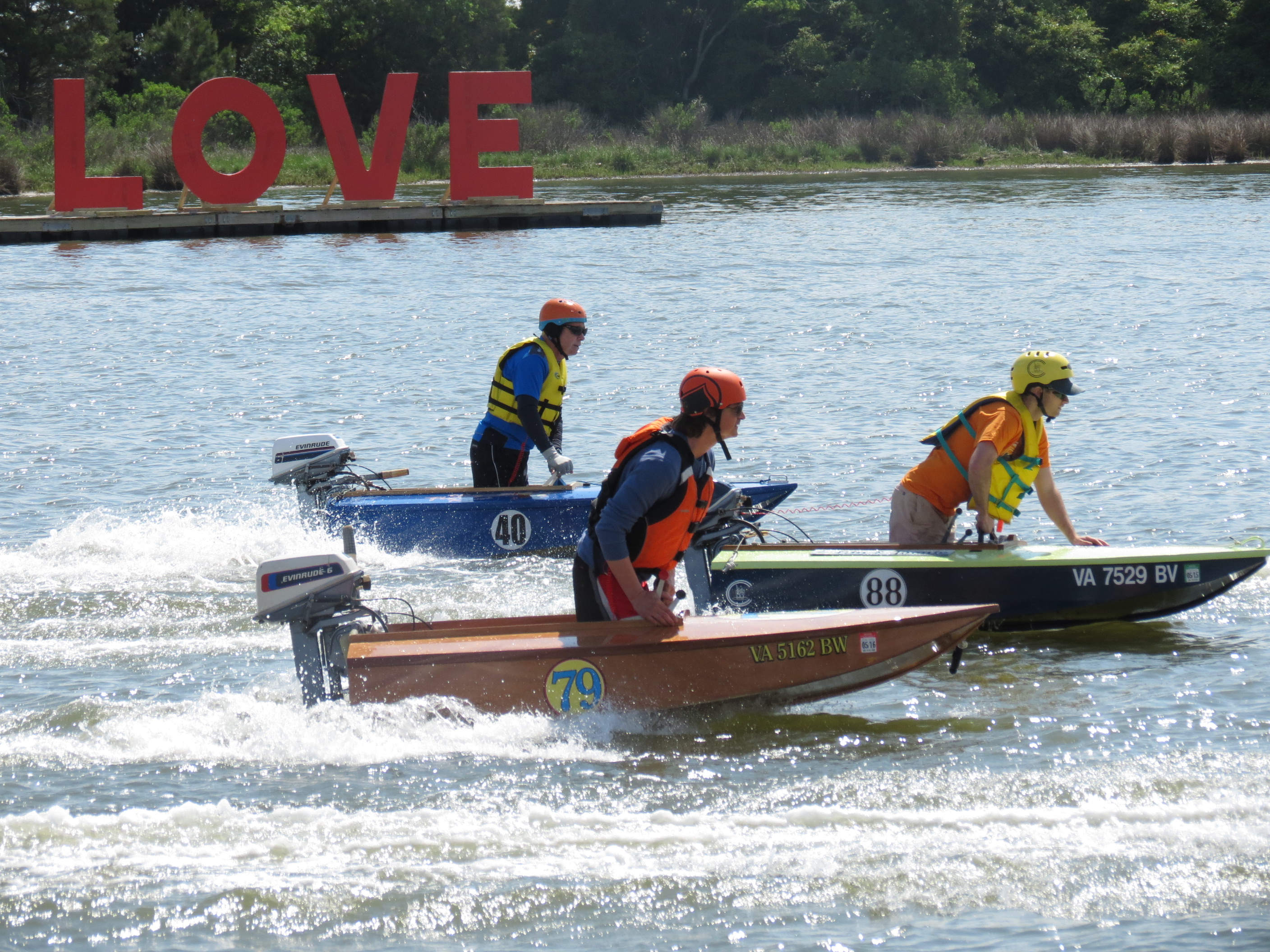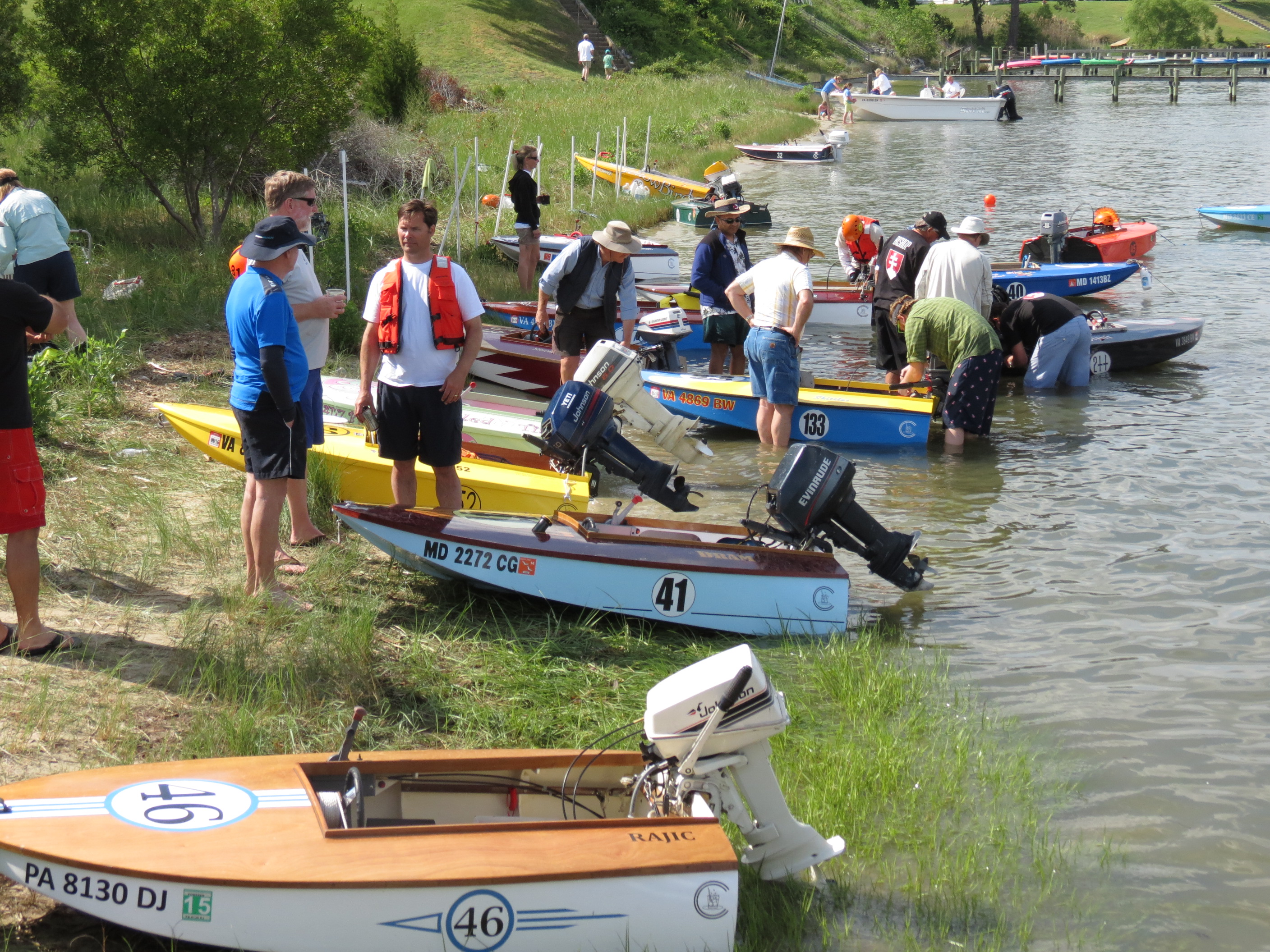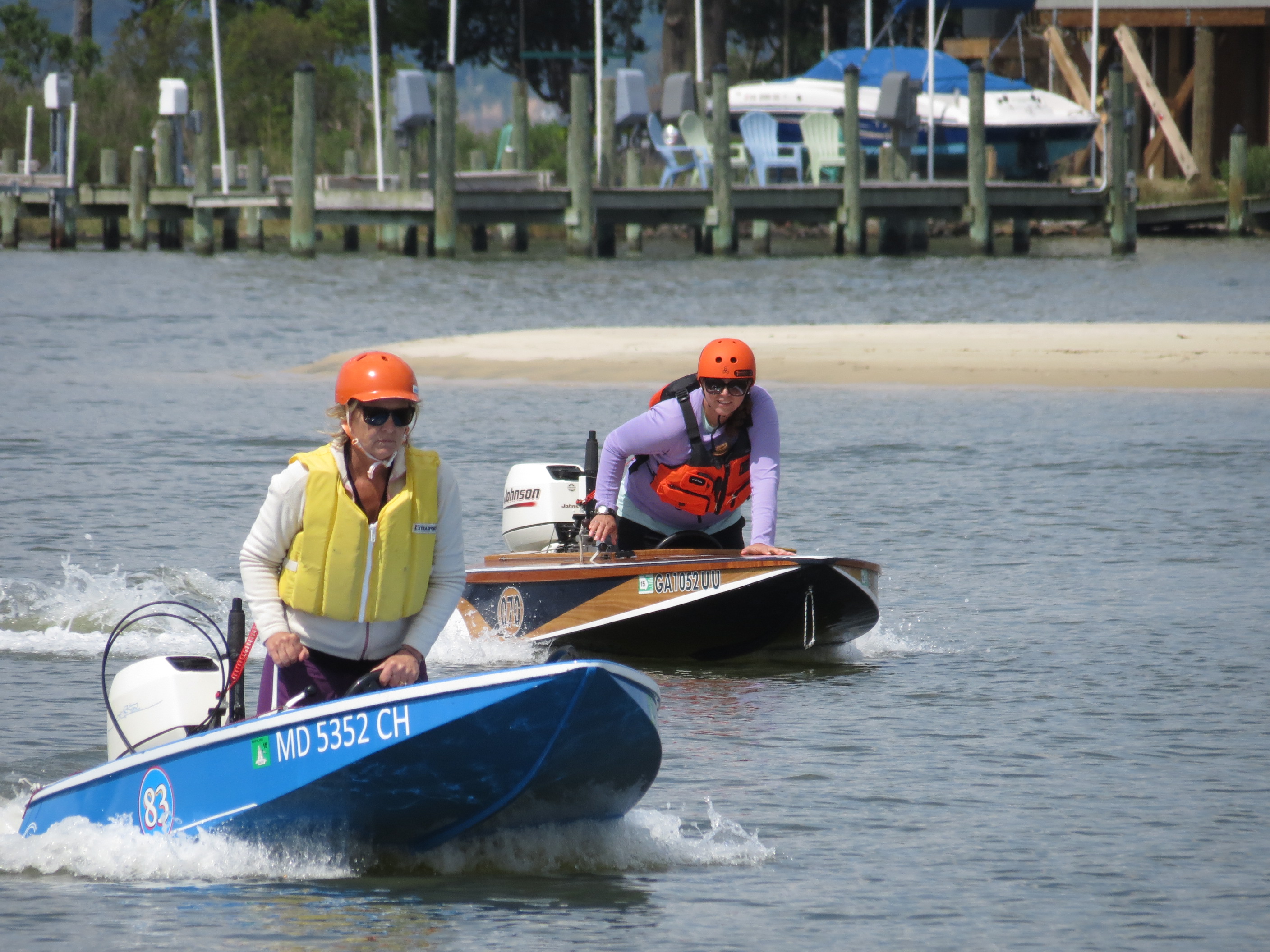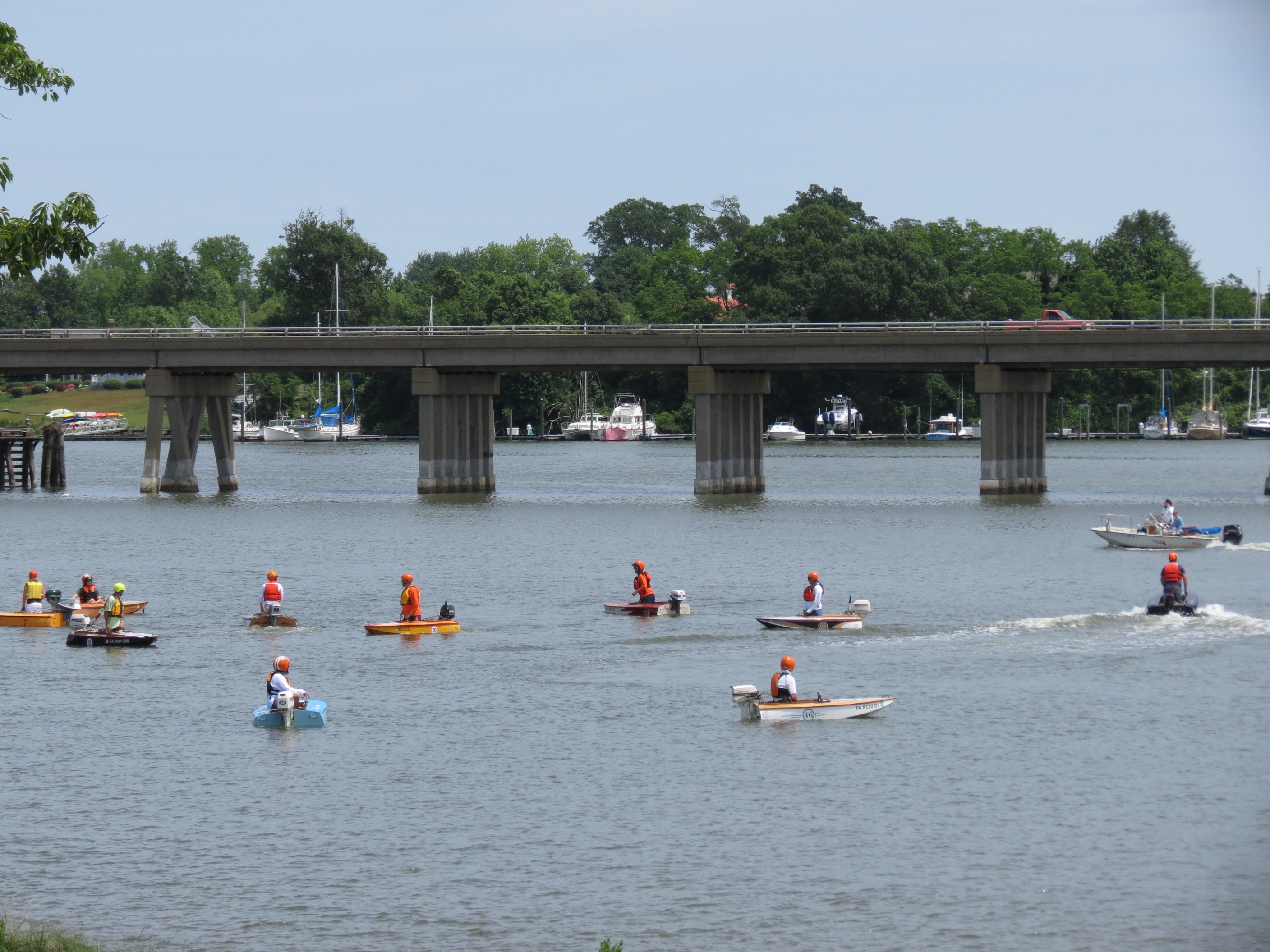 Seasoned Racers Compete Against New Drivers & Boats
It would seem like a tall order to best last year's inaugural Urbanna Cup, but the Town of Urbanna and the Urbanna Creek Cocktail Class Boat Association did just that on Saturday, May 17th when they held the Second Annual Urbanna Cup. In just two years, they have firmly established the Urbanna Cup as one of the premier events for the CCWBRA and made the Town of Urbanna one of our favorite racing destinations. More than 30 boats and 40 drivers attended this year's event. Boats registered from as far north as Connecticut, as far south as Georgia, and as far west as Tennessee traveled the interstates to race. Even the weather favored us with a perfect day for racing on the Creek, enjoying the waterfront and exploring the wonderful Town of Urbanna. More than two-hundred spectators lined the town docks; visited the pits and launching beach; photographed boats; and queried drivers and pit crews for stories, insights and tips.
On the race course, seasoned CCWBRA racers had their hands full fending off this year's crop of new drivers and boats. Experience, well-maintained boats, and finely-tuned engines proved their worth however, as CCWBRA's most seasoned drivers Russ Bowler, Robert Edmonds, Chase Bishop, Tara Carew, Keith Carew, and Kenleighe Longest continued their stranglehold on first place finishes. Nevertheless, newcomers Marie Schacht and Danae Turchyn turned in impressive performances, both making it to the championship heat for the Women's 6 HP Post-1979 class. Marie also scored a well-deserved third place finish in the Women's 6 HP Classic event. A complete listing of the results of the final championship heats may be viewed here: Urbanna Cup 2014 – Final Results.pdf. For a photographic tour of the day's events, go to our Photo Gallery page. Additional pictures and videos are available at http://youtu.be/n6N2Zxdj4-Q, http://jennymphotography1.shootproof.com/event/612309, https://www.facebook.com/UrbannaCreekCocktailClassRacingAssociation, http://vimeo.com/95856049, and http://vimeo.com/98223298.
Although the formal races ended Saturday evening, diehard CCWBRA racers and fans continued Sunday morning with the first CCWBRA Bootlegger Races. An offshoot of the Urbanna Cup, the Bootlegger Races offered an informal continuation of the weekend festivities with relay races, river runs, and course racing for stock and non-stock boats and engines. The family racing award went to Jack Pettigrew and his grandson Jack Pusser, who led the first leg of the relay races. Jack was our first entrant in the new youth racing program. Mike and Dave Johnson both raced their family's 1950's vintage Mercury Hurricane outboard, leaving everyone in their wake validating the many stories and myths that have grown up around these engines. Robert Edmonds and Kim Granbery showcased modified propellers and keels, trial horsing them against the best stock boats and engines in the fleet. All who tried them were awed by their potential.
As the weekend closed Sunday afternoon and the boats, drivers and crews headed for the highways, plans and ideas were already being mulled over for the Urbanna Cup 2015. Stay tuned!