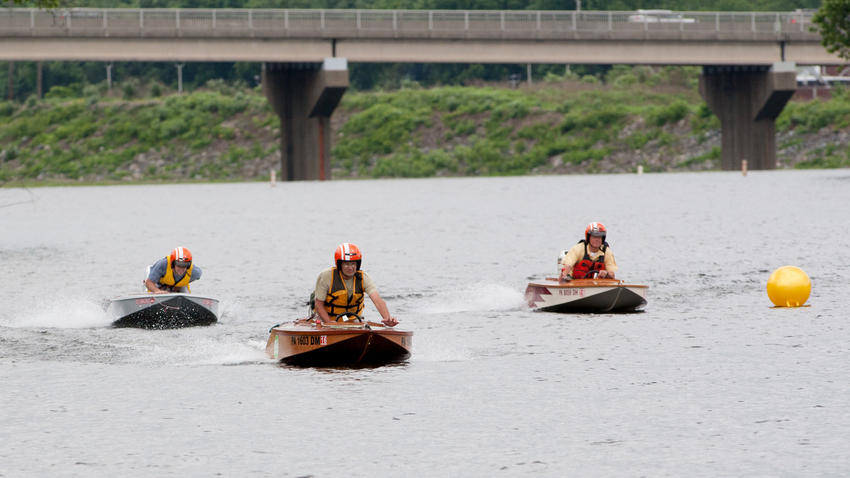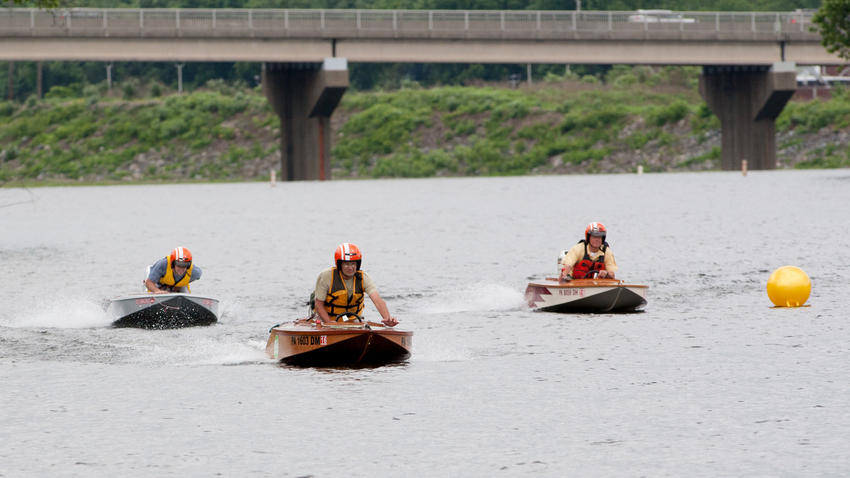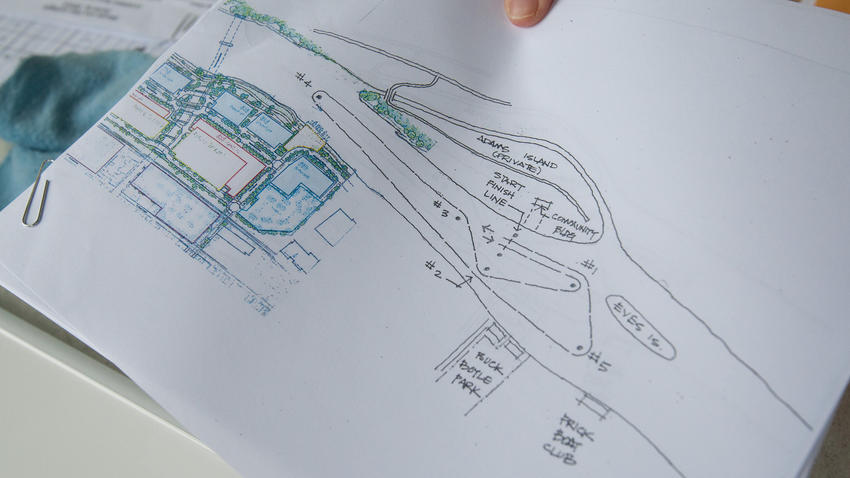 Skuas on the Lehigh Informal Race
Three Lehigh Valley CCWBRA boat-builders (Fred Allerton, Steve Brendlinger, and Tom Kerr) hosted an informal, experimental race on the Lehigh River in Allentown, PA on Saturday, 6 June.  For this trial race, participation was intentionally minimal at 10 boats and 12 drivers running in three classes.  The course was on a dammed portion of the river and necessarily long with two hairpin turns; nonetheless boats often crossed the finish line within reasonable proximity to one another.  It wasn't a drag race.  Home base was on Adam's Island on a lawn under large trees on the island community's commons – a unique and very pleasant venue.  Happily, we have been invited back next year!
We got some great press, too.  A stringer from The Morning Call, the Lehigh Valley's largest newspaper, did a beautiful job on a story, and a photographer captured the excitement well.  This link will take you to the story on the paper's website.  Also, look for the box on the page that contains pictures of the event.  The story and one picture (attached here) also appeared in the Sunday edition of the paper.  As a bonus, we got some attention from a potential host who, over the next few years, is creating a substantial mixed-use commercial development directly across the river that will include a public dock.  Maybe this could be CCWBRA's first urban race venue.
Here are the results of the races:
6-hp Mixed Post-1979:  1st Tom Kerr; 2nd Dan Lehner; 3rd Steve Brendlinger
8-hp Mixed:  1st Darryl Kepler; 2nd Steve Brendlinger; 3rd Peter Urbani
6-hp Mixed Early & Late Classics:  1st Steve Brendlinger; 2nd Fred Allerton; 3rd Dan Lehner
Thanks to Peter and Darryl for handling EMT duties (which happily weren't needed); to Steve for providing a safety boat; to Kay Brendlinger, Suzy Allerton, and Kara Lehner for registration duties; to Libby Lehner for carrying stuff; and to all the participants who brought good humor and endless helpfulness making everything run reasonably smoothly.  What a great bunch of folks!