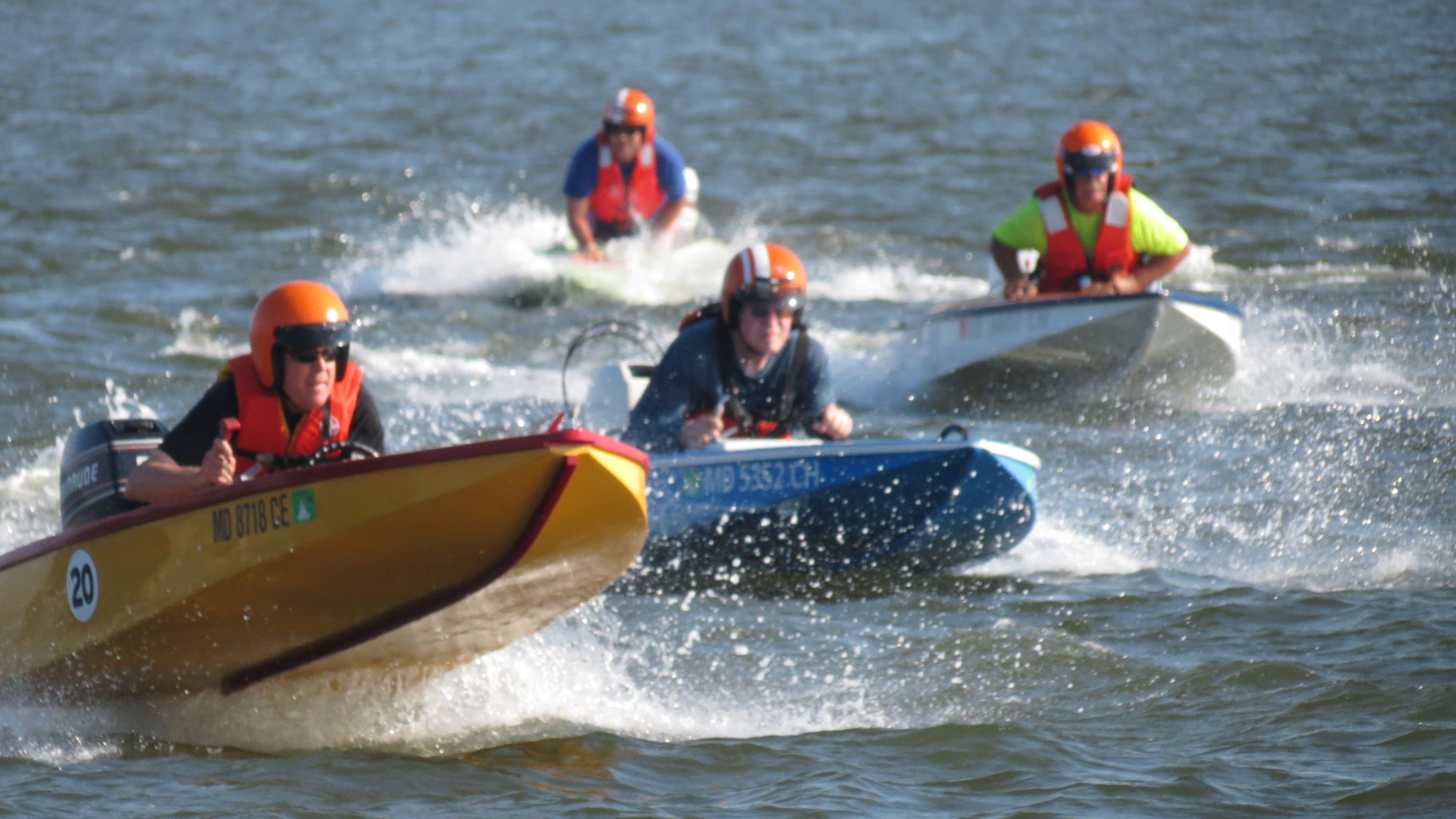 Gloomy Forecast Turns into a Great Race Day
The 2015 KIYC Regatta, held on 18 July, was another fun and interesting day.  The weather looked bad and was forecast to get worse (black clouds and a thunderstorm in the distance, white caps on the race course, etc.).  However, as the Drivers' Meeting ended, the wind died significantly, the clouds blew away, and serious 8-hp racing ensued.  The wind did gradually return as the 6-hp classes raced, hence many drivers in later heats got pounded racing through Mother Nature's waves.  Notice in the Photo Gallery that the 8s (earlier photos) had the smoothest water.  More photos can be viewed on PropTalk's website here.
One flip occurred:  an 8 coming out of the hairpin turn while back in the pack.  Other interesting events included one 8-boat-length marker buoy getting snagged and two competent, senior racers getting lost on the course (no names, but both were driving #40).  There were several kill switch problems, most caused by the abundant splashing in the rough water (better "waterproof" connectors anyone?).  There were few boat problems, but more than enough engine problems.  Bob and Ed in the rescue boat had some retrieval work to do.
Speaking of volunteers, the many hours of work by volunteers (CCR drivers, their families and friends, KIYC members and families, and Coast Guard Auxiliary personnel) very clearly were significant enablers for the fun day we enjoyed.  Frank Stauss and Bob Wallace persevered as co-Race Directors, for which they really don't get enough credit.  Bob, our gracious host and go-to to get-er-done guy, continues his hard work to promote CCWBRA racing at this venue.  Also, the KIYC Commodore and his staff again made us feel welcome at the Club.  When you a get chance, please thank these volunteers.
There were 27 boats entered this year, raced by 26 guys and 8 gals.  Unfortunately there were no Youth drivers at this event.  Racing results can be found here.  Note that a few of the 1st-place awards were won by novice racers.
Overall, a very successful race event.  There were minor scrapes and bruises among drivers, pit crews, and spectators, but nobody got hurt.  Although lots of the drivers were nursing aching muscles in the days after the regatta.
Also, we were invited back!  Oktoberfest at KIYC on 17 October.  Mark your calendars.