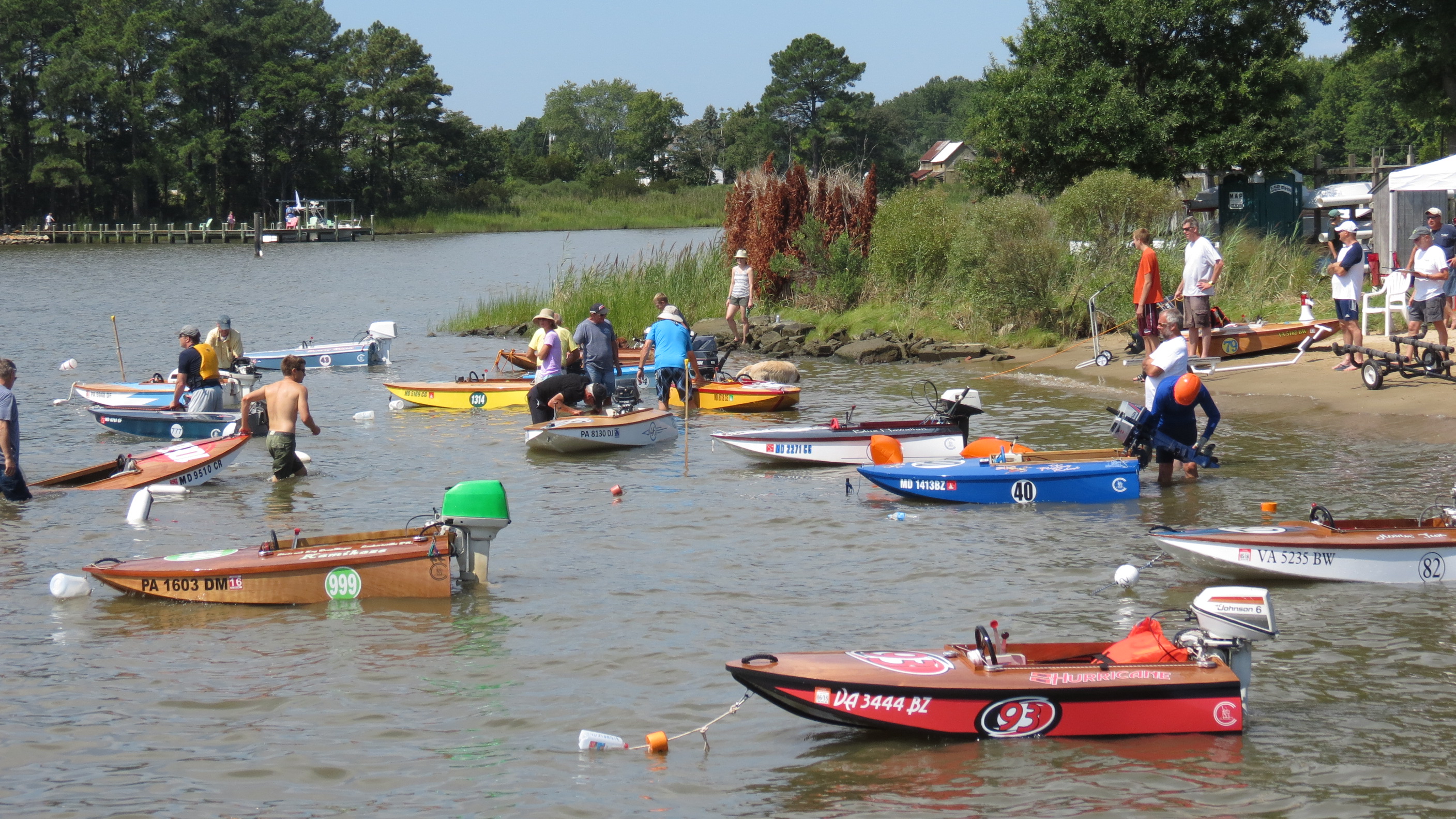 New Racer Takes 1st Place at National Championships
Forty-one drivers and twenty-eight boats participated in the 2015 CCWBRA National Championship at Rock Hall Yacht Club on 15 August.  The weather was gorgeous, although the cooling afternoon breeze led to an increasing chop from mid-day on.
The traditional Rock Hall course was modified this year by reducing its size slightly and by inserting an extra turn pin to tame some of the action around marks.  A second lap was added for the 8-hp and Post 1979 6-hp classes to offset the shorter course length.
Four boats capsized, one twice.  Spectators thought the group from Severn River had two very similar boats at the race:  race number 1066 looks like 9901 when upside down (Battle of Hastings turned turtle with two different drivers).  Also, two other drivers made wet exits, one when a turn buoy got in the way of his boat.  Both CCRs' kill switches worked and the boats stayed nearby, upright and dry.
Rougher water in the afternoon didn't deter the Youth Class racers.  All five performed with determination and grace and displayed many smiles afterwards.
First time racer Kate Schmicker captured 1st Place in Women's Early Classic, the only new racer of the day to drive to a 1st Place.  Final race results can be viewed here.
Three special awards were given out at the Awards Ceremony.  Morgan Carew was presented the Most Promising Rookie Award (finished 2nd in Youth).  Charlie Iliff and the Glue Factory team was presented the first ever Technology Award for their innovatice, large, easily readable, semi-tractor-trailer-LED countdown display integrated with an effective start horn megaphone.  And, dragging along in his daughter's footsteps, Steve Brendlinger took the Anchor in Tow Award, first awarded at Kent Island.
Photos can be viewed on our website's Photo Gallery, and on PropTalk's website.
A big shout of Thanks goes out to the small army of volunteers, the various safety boat crews, the CCR drivers, and their families and friends for making this event a great success.  Also, a sincere Thank You to Lee Urbani, the RHYC Commodore, and his RHYC staff for making us feel welcome once again.