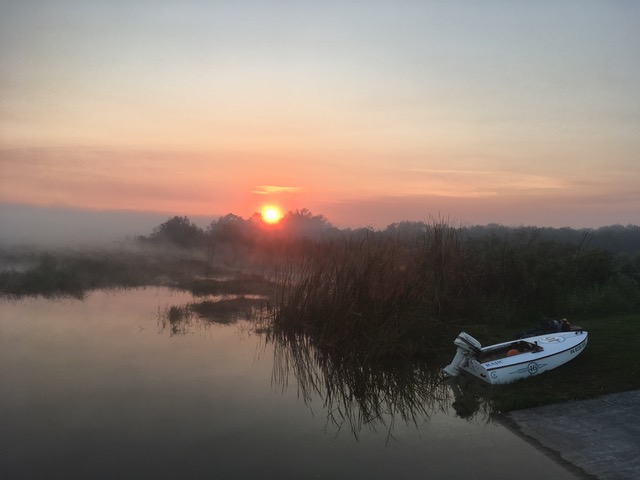 Mid-Winter Regatta Race Recap
Thanks to Fred Allerton for the race recap:
Fifth Annual Lake Placid Race of theMid-Winter Regatta – Recap:
Fast racing over smooth water, the scent of the orange blossoms, and a relaxed, fun atmosphere have become the trademarks of this race, held on Lake Apthorpe in Lake Placid. And this year was no exception! Cocktail Class racers were treated to calm water, a light breeze, and plenty of Florida sun for a great day of racing!
The excitement started early, actually, when two curious spectators paid a visit before a gathering of racers and fans grew very large. First, a Florida panther was spotted by an alert racer, as it pranced across the dirt access road that leads through the orange grove to the race site. Second, before the first boat slid into the lake, an alligator lingered silently in the water by the launch ramp and dock.
Racers from five states (Florida, Georgia, Tennessee, Virginia, Pennsylvania) competed on a zig-zag course that featured three tight turns and two straightaways. There were no mishaps, flips, bumps, or even protests! Just a few "Over Earlies", DNS's, and DNF's. The day's racing events fell into six classes: Early Classic Mixed, Early Classic Women, Early Classic Heavy, Late Classic Mixed, Post '79 Mixed, and Post '79 Heavy. Race results are posted here.
Returning Lake Placid racers welcomed three new Cocktail racers to help churn up Lake Apthorpe's quiet waters for the first time this year: Cameron Walker, Bob Laut, and Brittany Adamek. As a member of the "Due South" #180 racing team, Brittany's first race was actually three days earlier at Smyrna Yacht Club's Governor's Cup, where racing conditions were not as placid! See Blog for Recap of SYC's Governor's Cup Race.
Special "Thanks!" go to:
• Carl Staron for hosting the event, providing the safety boat and crew, and miscellaneous site arrangements
• Deb Edmonds and Nancy Pettigrew for coordinating lunch.
• The many Race Volunteers for pitching in with race preparations and race day duties – registration, scoring, pit duty, etc.
• Kimberly Shubert, Association Secretary, for coordinating registration
Have a fun and safe 2018 racing season! And, see you next year in Lake Placid, Florida!