The Cocktail Class Wooden Boat Racing Association has its origins in the cottage racing clubs of the 1950's when small towns across the country were hosting outboard races for family built boats and stock outboards. By the mid 1960's however, cottage racing had all but disappeared as boats and engines became more sophisticated, expensive, faster and dangerous. But the memories of crowded waterfronts, old outboards and competitive races lingered, at least for a few families in the Northern Neck of Virginia in the Chesapeake Bay.
Subscribe to our Email Newsletter
In August 2007, idle reminiscences became an exciting concept during an evening cocktail hour on the banks of the Corrotoman River. By the end of 2007, a hard plan had been forged by the Bluefeld/Granbery/Fitz families to build and race four outboards by Memorial Day, 2008. The boat of choice was the SKUA, designed by Charles McGregor and published in the August 1939 issue of Rudder Magazine. It was the right size, easy to build and looked awesome.
The first boat, "Miss Bud" (#7), was launched on Presidents' weekend in 2008. Despite the cold weather, sea trials were a huge success and construction of three more boats began in earnest the next day. On Memorial Day 2008, with bunting hung and holiday colors flying, four boats with old outboards, 12 drivers and lots of friends and neighbors held the inaugural race, the "Founders Cup". The excitement was overwhelming and a set of building plans were developed so others could build boats and share in the fun.
Membership in the CCWBRA is open to anyone 16 years or older who is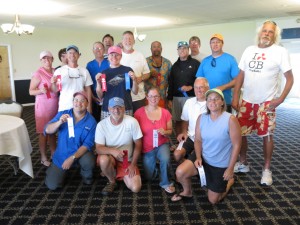 interested in supporting, building, or racing Cocktail Class Runabouts. Family members, with the same address and who are 12 or older, are eligible to participate in all Association activities, but shall not be a voting
member.

New members joining January 1st through October 31st will pay a full-year membership fee of $50.00.

Annual membership dues thereafter are $75.00 per household, except for early-bird registrations which are only $50.00 if paid prior to March 31st (as approved by the Board of Directors annually).
Membership must be current prior to participation in any CCWBRA event.
Each member receives access to our Member Directory and the ability to comment and/or post to the Forum and Classifieds pages. Members are also authorized to vote in the bi-annual election of officers and other ballot initiatives submitted by the Executive Committee.
Join CCWBRA now and visit our Ship's Store for quick, electronic payment. Questions regarding membership in CCWBRA may be sent to secretary@ccwbra.com.
Members may register their boats with the Association and obtain a Member Racing Package for a one-time fee of $35 per boat. The racing package includes the following:
assignment of a national racing number exclusive to your boat,
official CCWBRA logos for display on each side of your boat, anda Certificate of Racing Eligibility indicating your assigned racing number and stamped with the CCWBRA seal.
Complete our Membership Application to register your boat, or visit our Ship's Store for quick, electronic payment. Questions regarding boat registration may be to sent secretary@ccwbra.com.
Keith Carew
Commodore, Design Comm. Chairperson
Peter Urbani
Vice Commodore
Rick Loewen
SouthEast Region Fleet Captain
Chris Norman
Appalachian Region Fleet Captain
Kimberly Shubert
Secretary
Dave Goldner
SouthWest Region Fleet Captain
Lisa Merilson
Member-at-Large
Frank Stauss
National Fleet Captain & MidAtlantic
Kirt Briggs
Midwest Regional Fleet Captain
Todd Steffes
Rear Commodore
Fred Allerton
Board Director, Safety Comm. Chairperson
Jack Pettigrew
Youth Committee Chairperson
Chris Riddick
Board Director
Charlie Iliff
Engine Committee Chairperson
Peter Urbani
Appeals Committee Chairperson
Jim Schmicker
Racing Rules Committee Chairperson